The most wonderful time of year is fast approaching and with it all the joy of shopping, gifts, family, food, lights, and of course…Christmas Pajamas. This is the one time of year where it's cute and socially acceptable for everyone in the family, including Dad, to wear highly decorative or bright matching pajamas and to unashamedly take and share pictures of this phenomena.
As a custom fabric printing company, we've seen a lot of amazing pajamas created by our customers and we enjoy seeing all the Christmas fabric orders for pjs coming through our print shop this time of year. So, we thought it would be fun to do a blog post as a guide to Christmas Pajamas that pulls from the wisdom and skills of our customer community.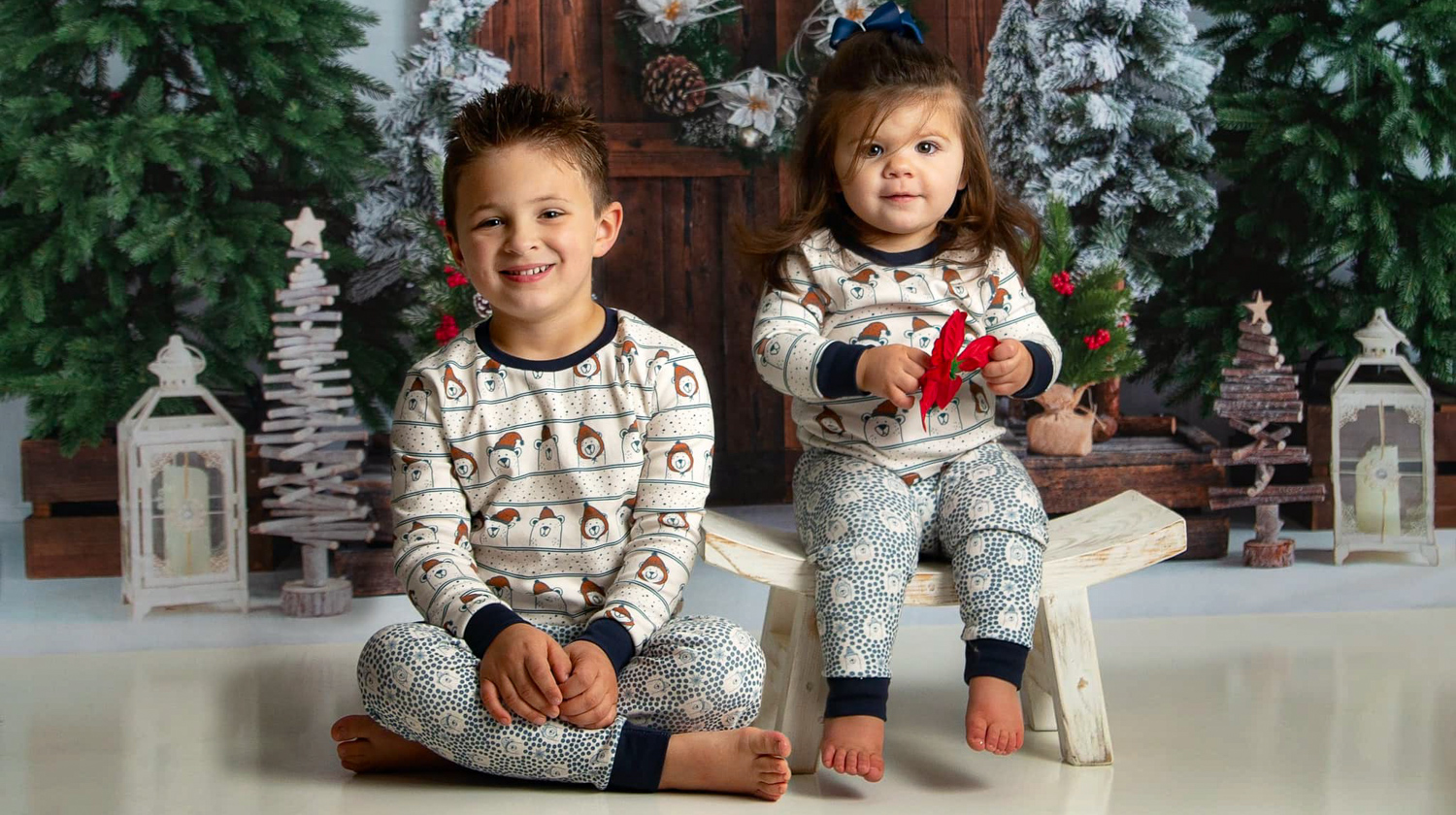 Custom Christmas Pajamas made by Ethan and Elle using Custom Printed Fabric
What Is the Best Fabric for Christmas Pajamas?
Of course we all want Christmas pajamas to look fun and nice, but as pajamas they should also be comfortable! A pajama set should be made from material that is a delight to lounge in all day long or to snuggle under a blanket and sleep all night long.
We took a poll in our Facebook Group, asking our customers what their fabric fabric is for Christmas Pajamas. Here are the results:
#1 – Organic Large Box Thermal: A Customer Favorite for Christmas Pajamas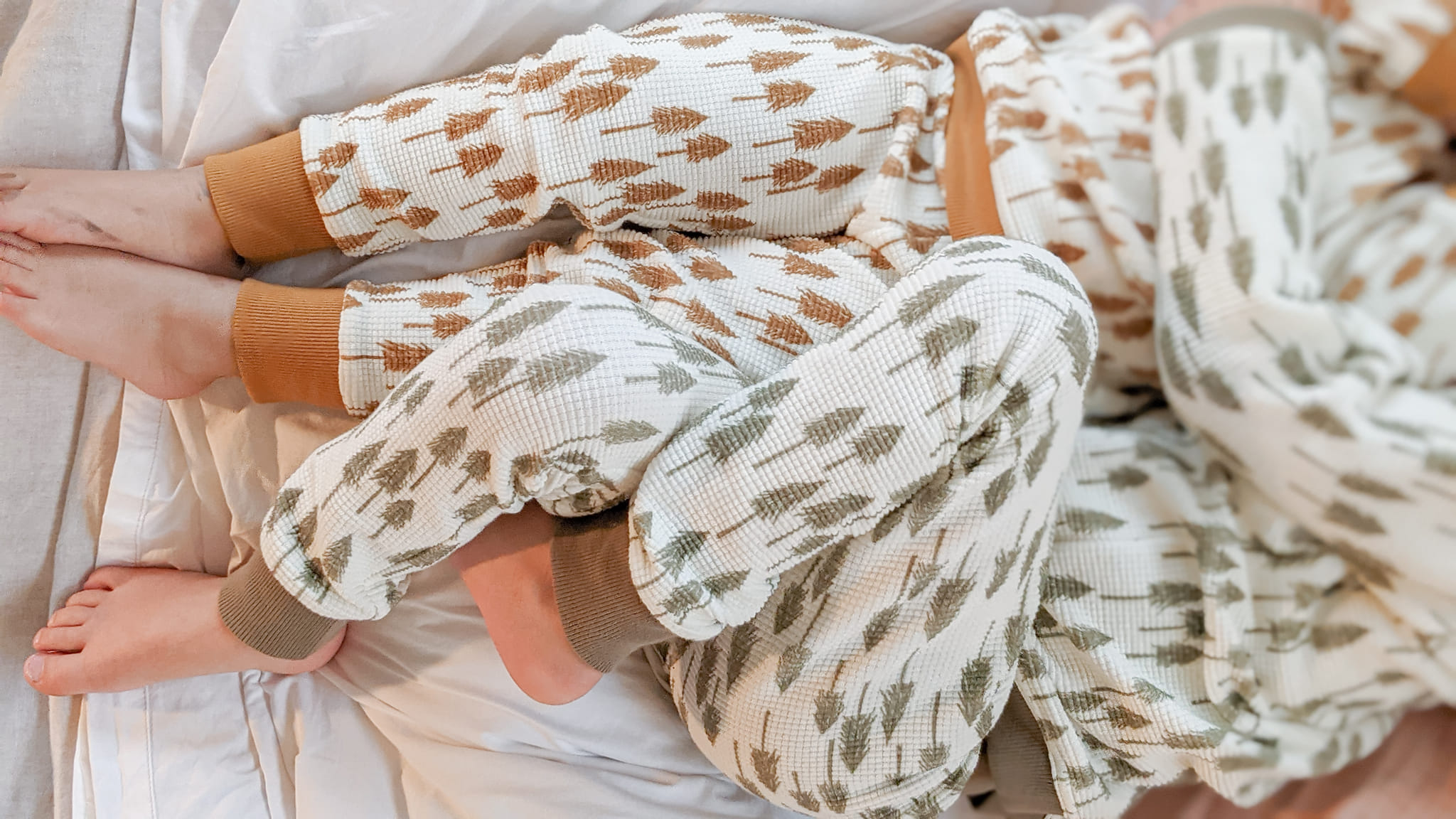 Christmas Pajamas made by Alicia Z using our American-Milled Large Box Thermal fabric
Our organic large box thermal is definitely a customer favorite for winter and holiday pajamas. This box thermal (also commonly called "waffle") is extremely comfortable with a soft textured surface that provides a ton of natural breathability due to its 95% cotton content. With a 5% spandex makeup it has a 4-way stretch and great recovery. You really won't go wrong with this fabric for pajamas.
#2 – Organic Cotton Spandex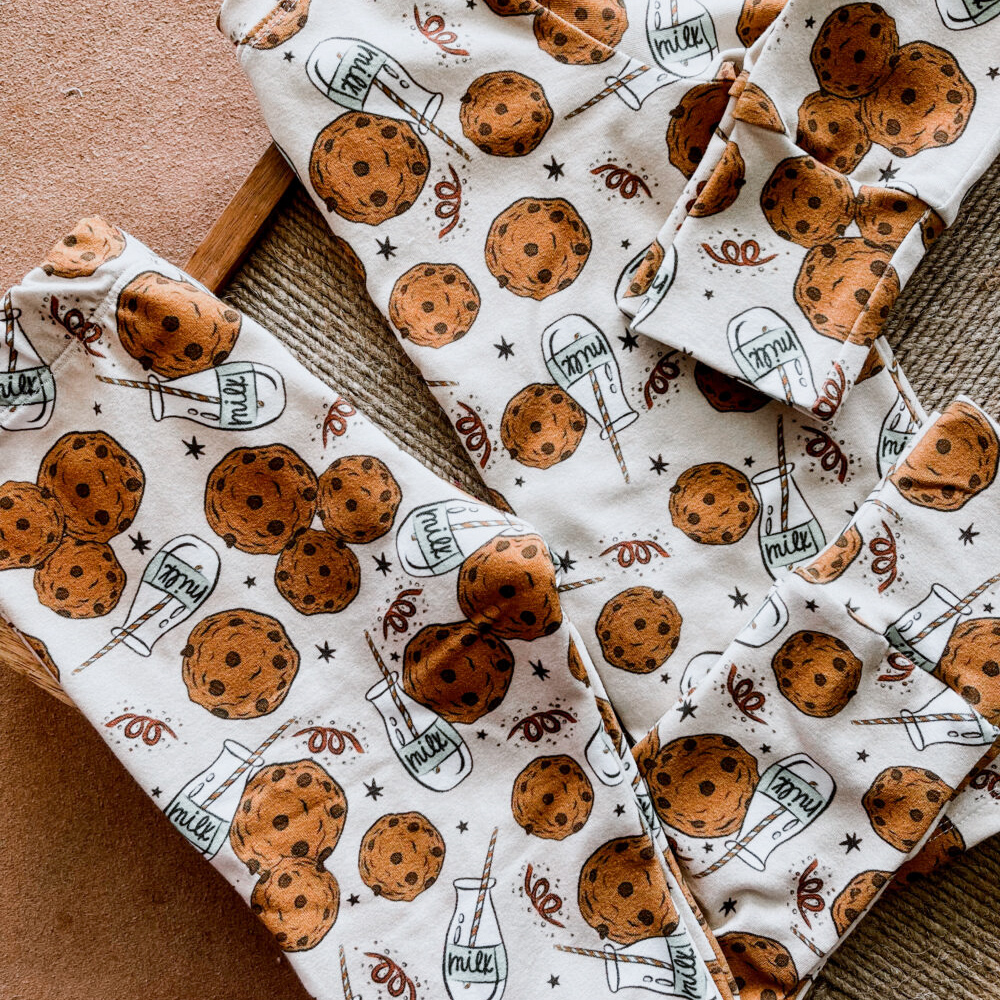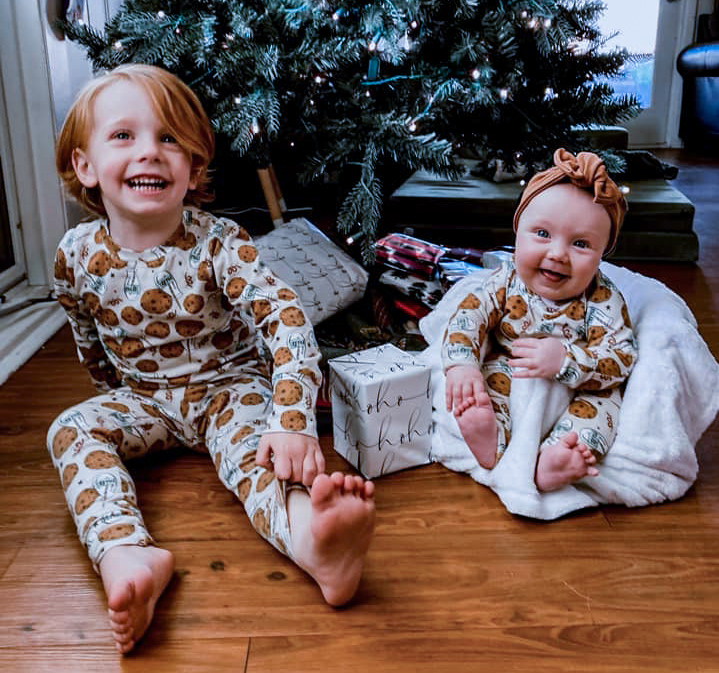 Custom Christmas Pajamas made by Ashley Kaber with Organic Cotton Spandex
A very close second for best pajama fabric is our Organic Cotton Spandex. Customers especially seem to like this option for pajama tops. We have this American-Milled fabric available in both a regular weight and a lightweight option, both are great and popular options for Christmas pajamas. This fabric has a 4-way stretch and is extremely soft and comfortable, making it especially popular for baby and children's pajamas.
#3 – Organic CS French Terry
Coming in at 3rd place is our Organic CS French Terry. This American-milled fabric has a low looped back and soft hand. With a 4-way stretch it is especially popular for sweatpants and makes a great lounge-style pajama material.
#4 – Organic Small Box Thermal
Very similar to our large box thermal, but with a smaller waffle pattern, our Small Box Thermal is both Organic and American Milled made with 95% cotton and 5% spandex. This fabric also has great recovery with a 4-way stretch and provides very good breathability.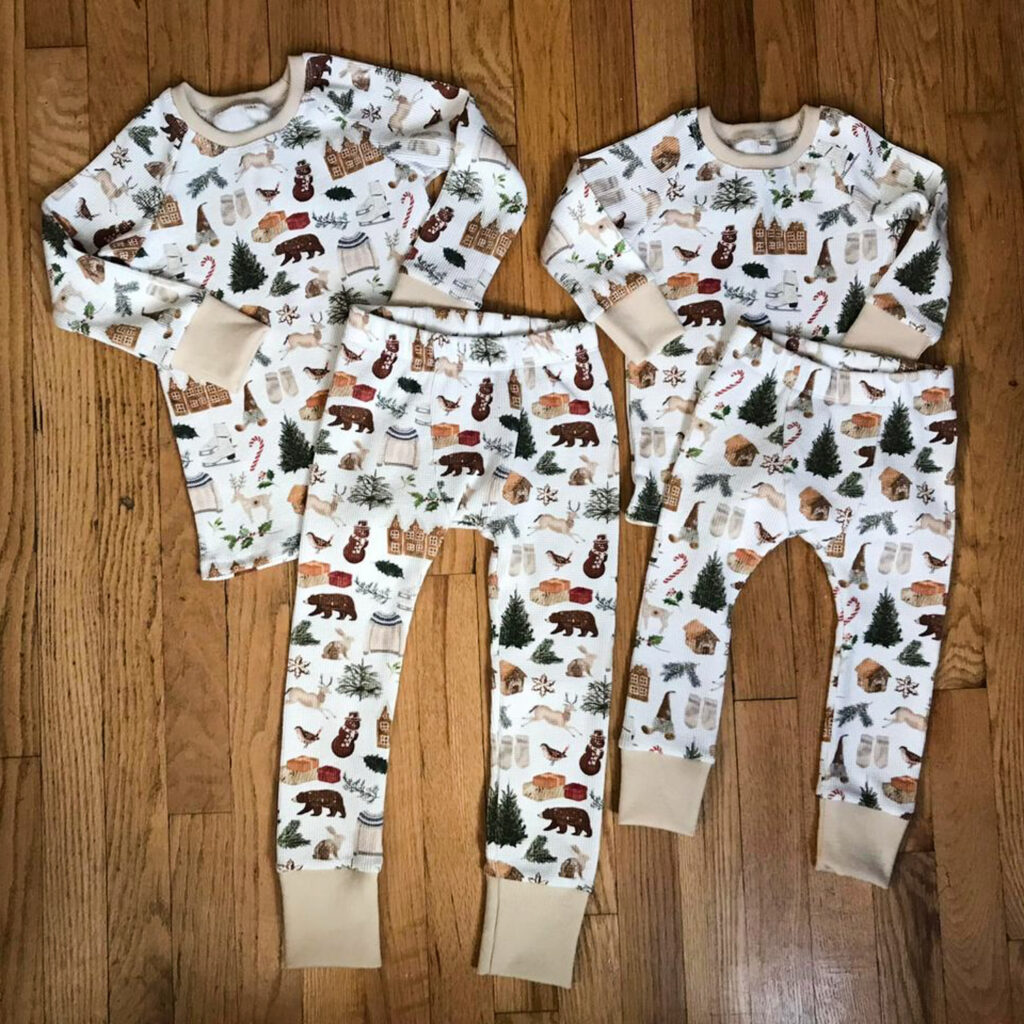 Christmas Pajamas in Small Box Thermal Fabric by Melanie K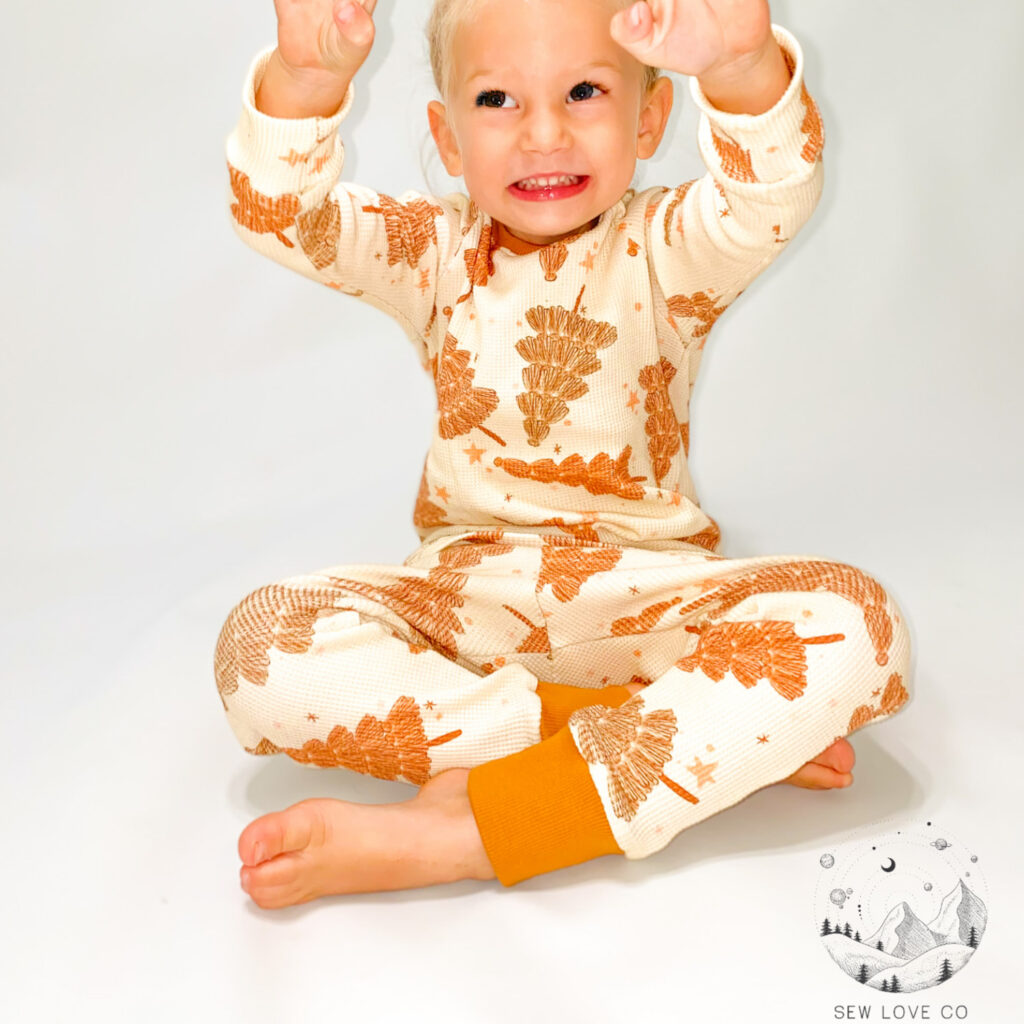 Christmas Pjs in Organic Small Box Thermal by Sew Love Co
So, there you have it – the best fabric for Christmas pajamas according to our highly talented community of sewing artists. And, the good news is that as a custom fabric printer, we provide you with the ability to choose any of these fabrics and choose any design you want to have printed on it so you can get your dream fabric.
Popular Sewing Patterns for Christmas Pajamas
Disclaimer: Please be aware that the Consumer Product Safety Commission has Children's Sleepwear Regulations that help ensure safe sleep. We have not tested the sewing patterns below to ensure that they meet the requirements of the CPSC and are not endorsing any pattern as safe for sleepwear. These are simply patterns we have seen as being popular among our customer base and we list them as a resource only. For questions around a specific pattern and its adherence to CPSC regulations, please contact the pattern provider.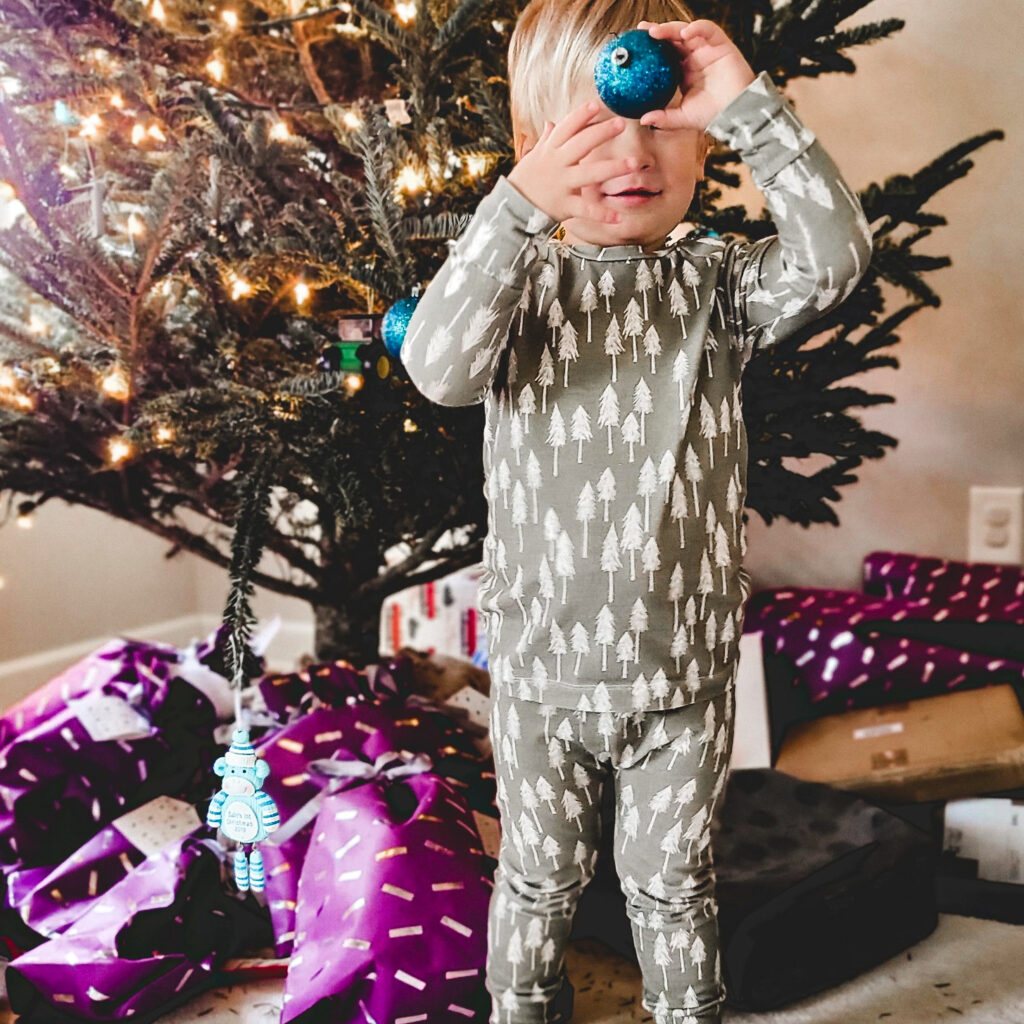 Custom Pajamas by Ocean Wild Threads using Lowland Kid's Raglan Top and PJ Pants Pattern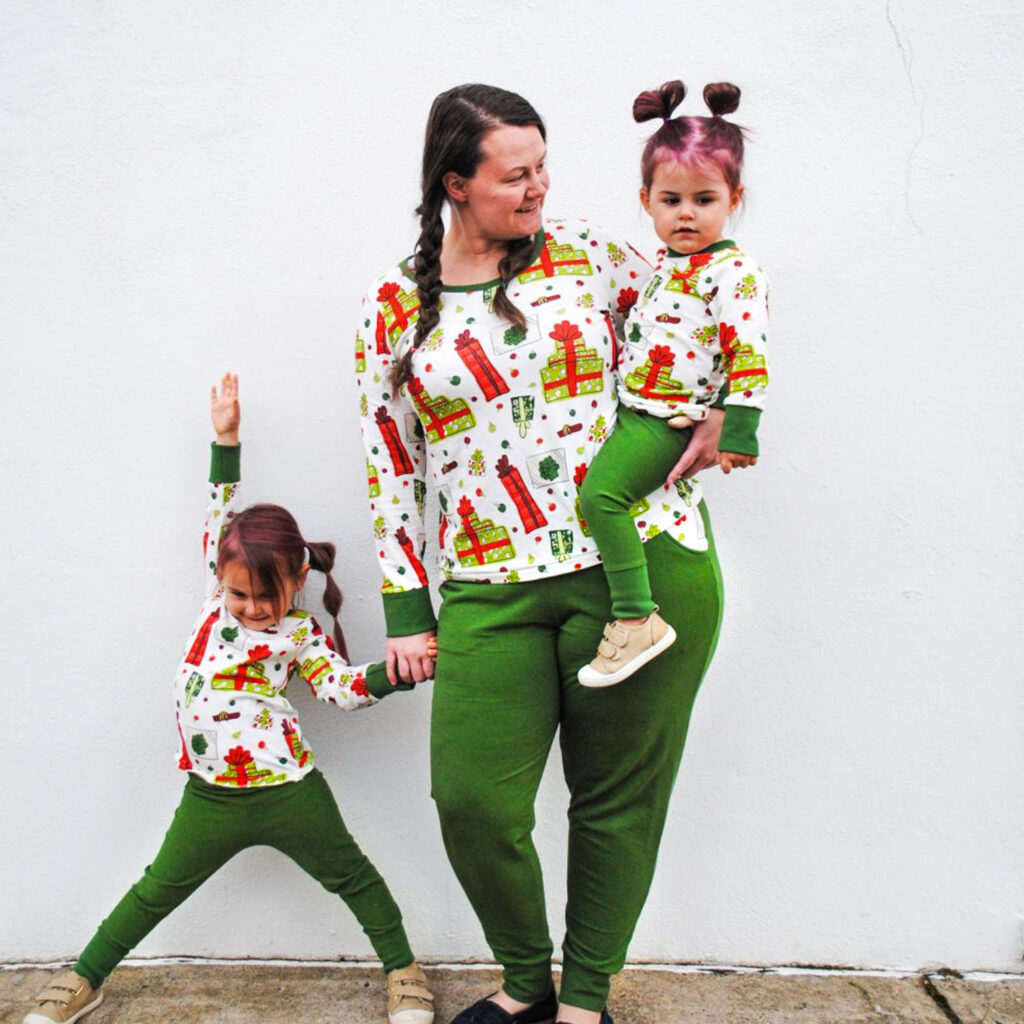 Organic Cotton Spandex matching pajamas by Ruwyn Stitchery using Waitomo pattern by Samantha Marie Design, and Lexi Loungers by M4M
Below are some of the popular sewing patterns for pajamas that have been used by our customers or that we have come across since starting our fabric printing business.
Kid's Pajama Sewing Patterns
Adult Pajamas Sewing Patterns
Our Favorite Fabric Designs for Christmas Pajama Fabric
We have hundreds of in-house holiday designs from our talented artists. Below are some of our favorite designs for both some fun and some charming Christmas pajamas. Of course, you can always browse all our holiday fabric designs and choose the one you like best for this year's Christmas Pajamas
More Amazing Custom Christmas Pajamas Made by Our Customers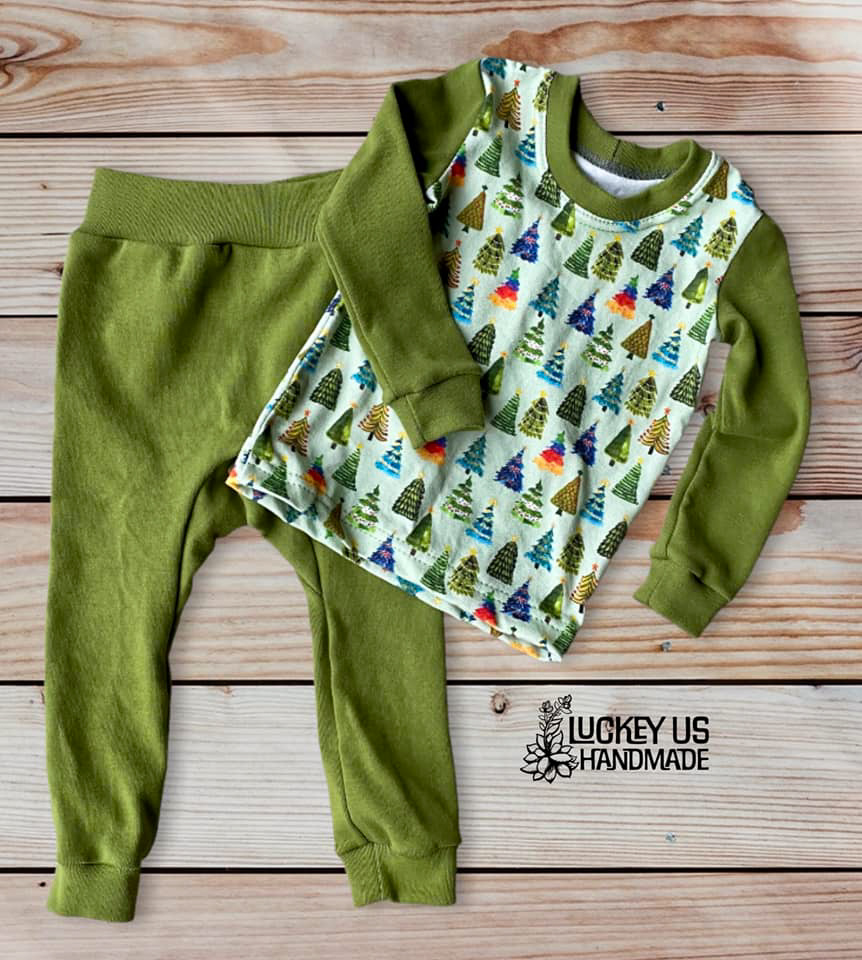 Made by Luckey Us Handmade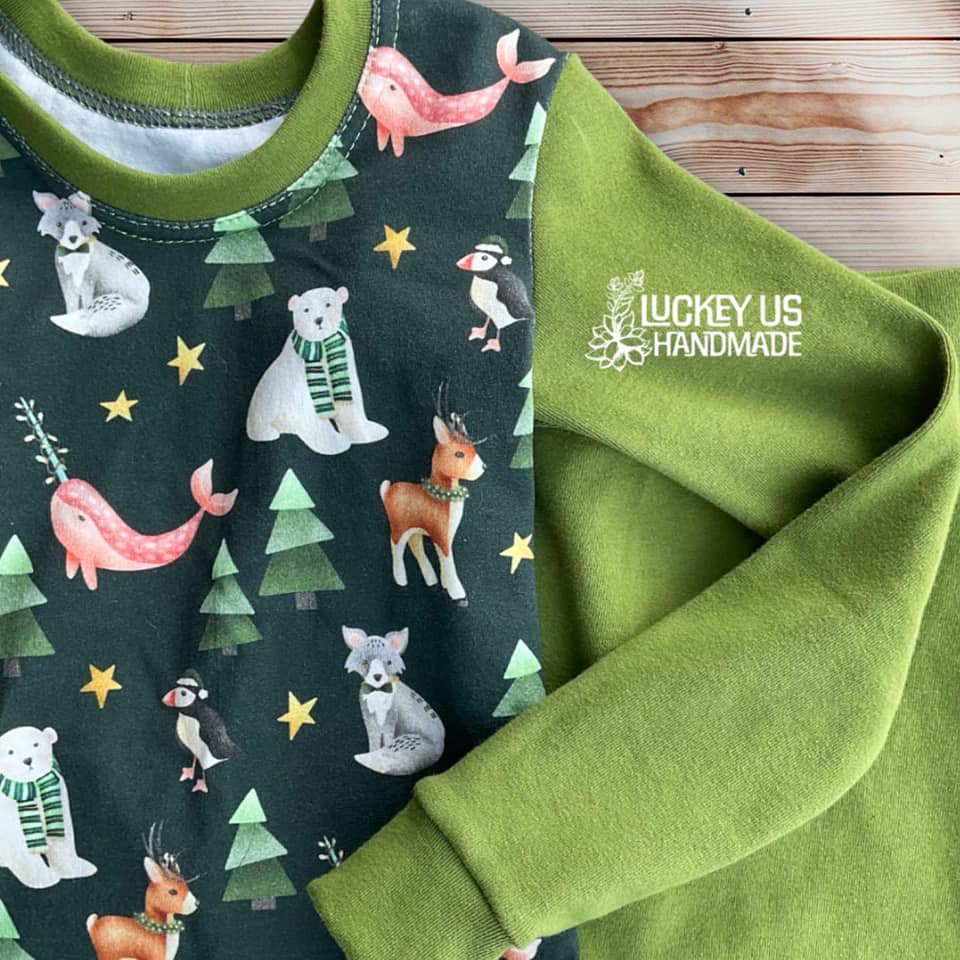 Cozy Christmas Pajamas by Luckey Us Handmade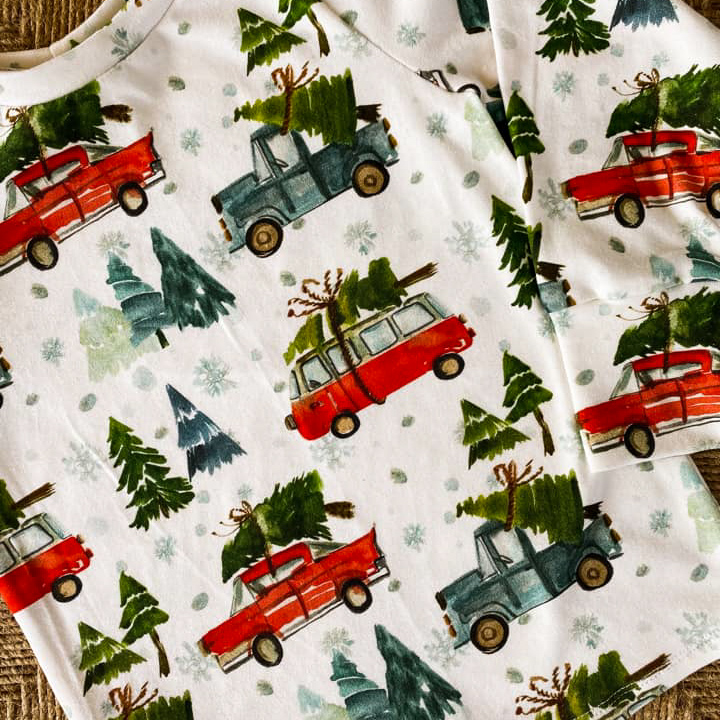 Christmas Pajama top by Ashley Kaber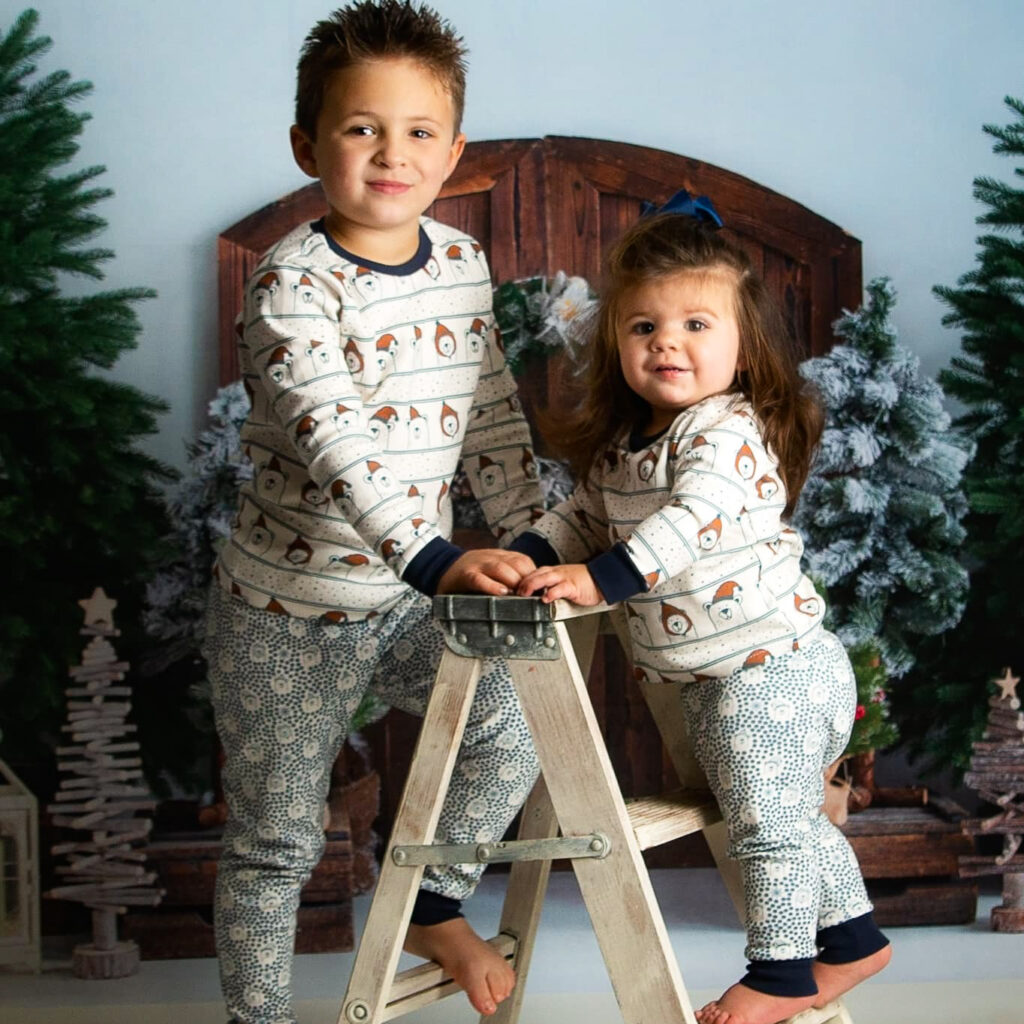 Custom Christmas Pjs by Ethan and Elle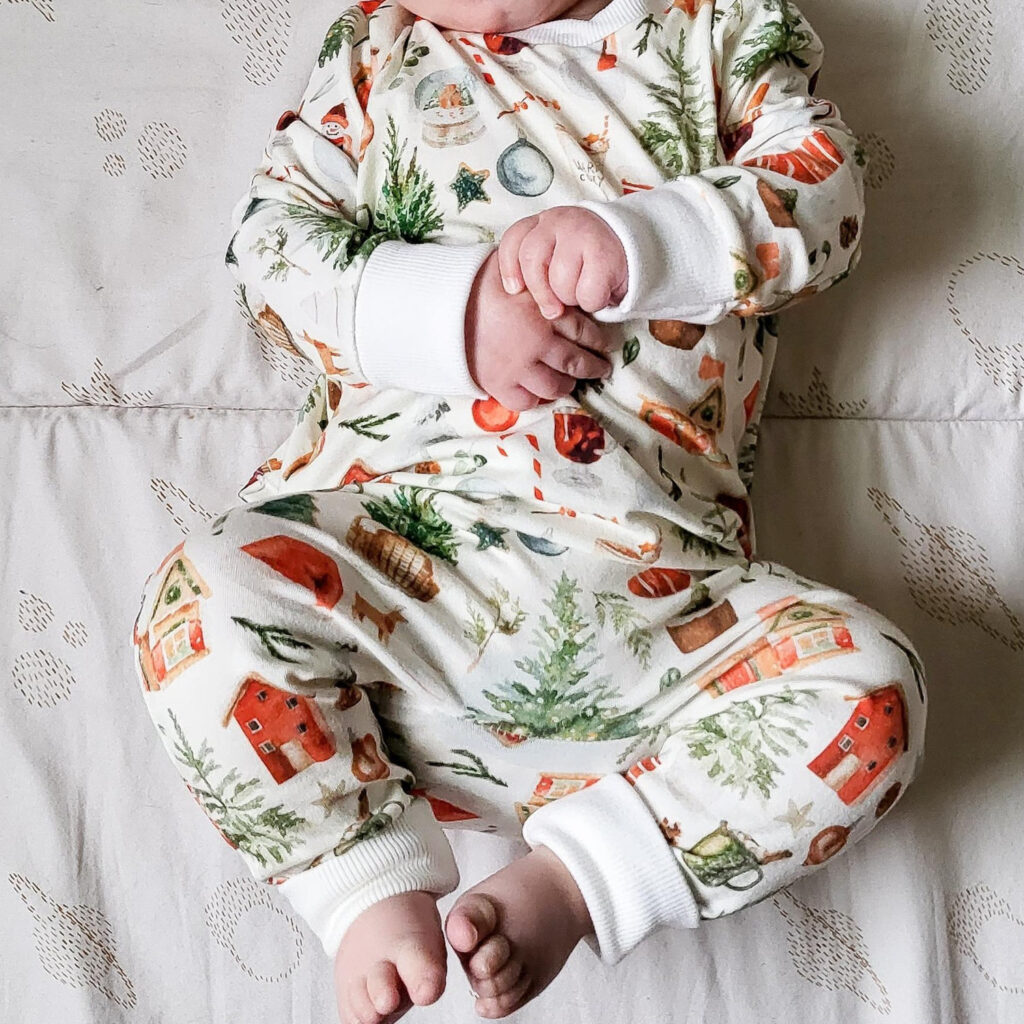 Made by Tessa Pruit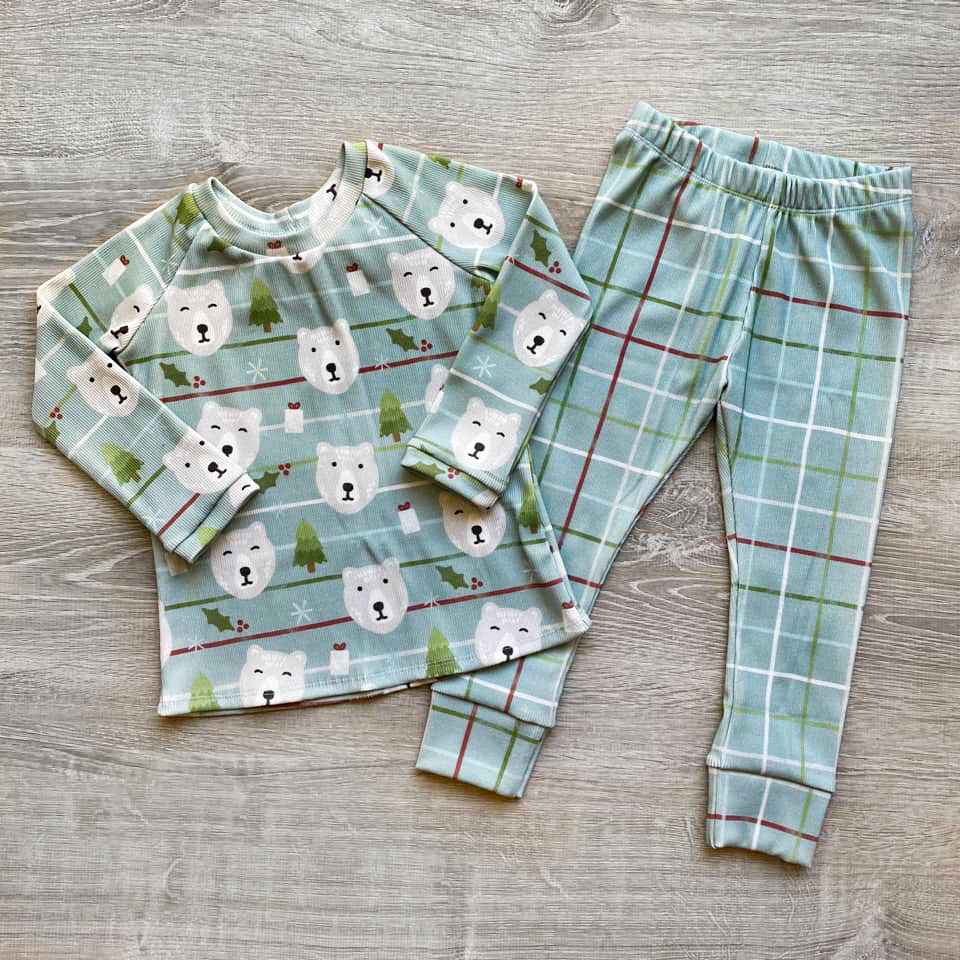 Beautiful Pjs using our Ribbed Fabric made by Melissa BatesAll the info you need to make your own Christmas pajamas. We pulled from the talent of our customer community for this fun Holiday PJ DIY guide